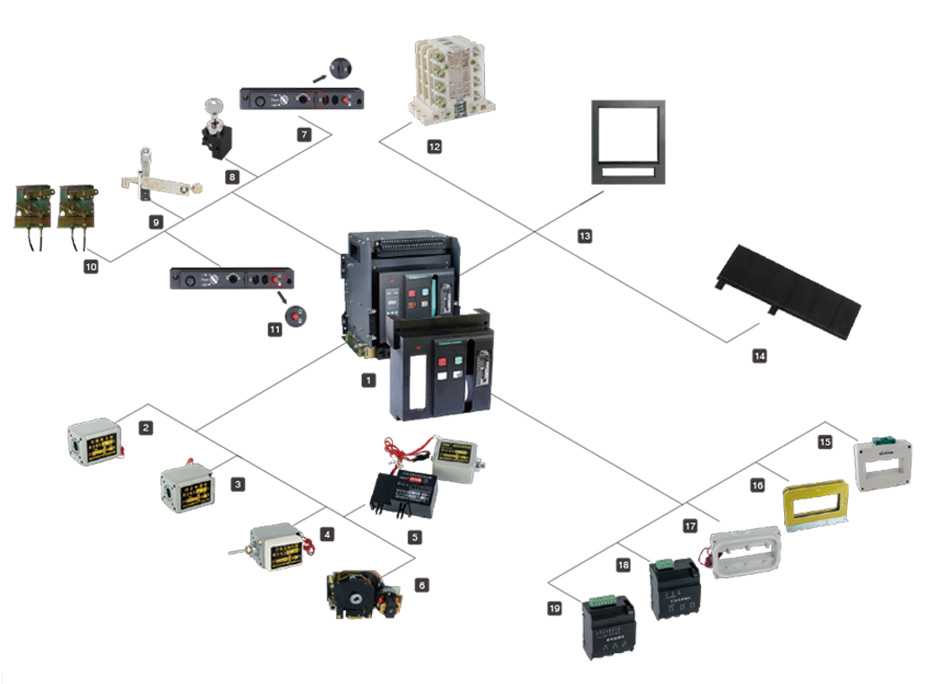 1. Installation category
Class IV for main circuits of the circuit breaker and voltage tripper coil and primary coil of power transformer; Class III for auxiliary circuit and control circuits. The inclination with the vertical plane does not exceed 5° when installation.
2. Pollution class: 3
3. Altitude ≤2,000m, derating when above 2,000 m.
4. Atmospheric conditions
The relative humidity does not exceed 50% at the ambient temperature of +40°C, and a higher relative humidity at the lower temperature may be allowed;
The relative humidity at the low temperature +25°C can be up to 90%. The necessary measures can be taken for condensation on the product surface due to temperature changes.
5. Protection level IP20 for the front and IP00 for the remaining
6. Electromagnetic interference Suitable for electromagnetic environment
Basic parameters
Frame current
1600
2000
2500
3200
4000
6300
Rated working voltage Ue(V)
AC415/690
AC400/690
Rated insulation voltage Ui(V)
1000
Rated impulse withstand voltage Uimp(kV)
12
Frequency (HZ)
50
Use category
B
Pole number
3P/4P
3P
3P/4P
Maximum continuous current of N pole (A)
100%In
/
50%In
Full-breaking delay time without addition (ms)
≤30
Closing time (ms)
≤70
Flashover distance (mm)
0
Rated current In(A)
200/400/630
800/1000
1250/1600
200/250/400
500/630/800
1000/1250
1600/1900
2000
630/800
1000/1250
1600/2000
2500
2000/2500
2900/3150
3200
4000
4000/4900
5000/5900
6300
Breaking capacity
Breaking capacity
Conventional
H
Conventional
H
Conventional
H
Conventional
H
Conventional
H
——
Rated ultimate short-circuit
breaking capacity Icu(kA)
AC400V
50
55
80
90
100
100
100
100
100
100
120
AC690V
25
30
50
65
65
65
65
65
65
65
75
Rated operating short-circuit
breaking capacity Ics(kA)
AC400V
42
50
80
90
80
100
80
100
80
100
100
AC690V
20
25
40
65
50
65
50
65
50
65
65
Rated short-time withstand
current Icw(kA)/1s
AC400V
42
50
55
65
80
80
80
80
80
80
100
AC690V
20
25
40
50
50
50
50
50
50
50
65
Rated short-time withstand
current Icw(kA)/0.5s
AC400V
/
/
/
75
/
100
/
100
/
100
/
AC690V
/
/
/
65
/
65
/
65
/
65
/